News & Events
During the summer of 2015, Landmark Construction completed 12 classrooms at two school sites as well as several other projects for the Davis Joint Unified School District (DJUSD). The compressed 65 day
In modernizing the University of California, Davis campus, Landmark Construction replaced building heating and cooling systems. As a result, campus facilties are more comfortable for students, faculty and staff. The new energy
Demolition of 12 portables, construction of 12 new classrooms at two schools, a remodel of a multi-purpose room at a third school, and entire site painting and new roofs for two campuses,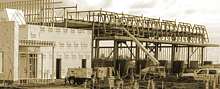 Have a project to discuss?
School districts, agencies and architects repeatedly select Landmark Construction. Contact us to discover why.
-->