With uncertain weather patterns in the San Francisco Bay Area in early March, Landmark Construction employees are prepared to test themselves on a company sailing trip.
According to Joe Bittaker, President, Landmark Construction, the construction team will be actively sailing a 42 foot monohull in the San Francisco Bay where the 2013 America's Cup challenged the world's most talented sailors.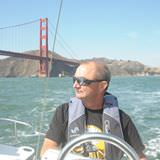 "On Sunday, March 13th, we'll be sailing out of Richmond Inner Harbor for a full day of adventure on the bay," said Bittaker. "The last time we went, we were able to get under the Golden Gate Bridge and enjoyed an energetic sail back into the bay.  On a previous trip, we enjoyed a great lunch at Sam's Anchor Café, before sailing along the city waterfront and under both the new and old bay bridges.  There's no telling what kind of adventure awaits us on this trip."
With an adventurous employee team that is used to facing down challenges on the construction jobsite and overcoming them with outside the box and collaborative thinking, this is just the kind of all-out event that employees enjoy according to Bittaker. "As you might imagine, weather conditions are highly unpredictable at this time of year, so we'll get what we get and make the best of it," said Bittaker. "One thing for sure – this ain't no wine and cheese tourist cruise."
If you like to ski, sail, surf, bike, hike, kayak or other high adventure sport and have construction experience, Landmark Construction is interested in talking with you.
With several large and exciting projects underway and on the horizon in Northern California, the construction company is building its team with those who like a challenge and enjoy working in a collaborative, adventure filled environment to deliver the highest level of customer satisfaction. Open employment positions in the Sacramento region include Estimator, Senior Superintendent, Contract Administrator, Construction Administrative Assistant, Engineer/Project Administrator and IT Support Coordinator.  Apply now for jobs at Landmark Construction.