A ninety percent chance of rain and an all-day golf tournament may not be the best combination for fair weather golfers, but Landmark Construction was dedicated to the cause Monday, February 26th at the Coalition for Adequate School Housing (CASH) Golf Tournament.  This tournament was in conjunction with the CASH Annual Convention in Sacramento, in which Landmark has participated for over 10 years.  Landmark has also been a sponsor of the CASH Golf Tournament for the last five years.
Landmark Project Managers Chris Martin and Justin Barr played in the tournament with guests Eric Dubey from WIP Mechanical and Chris Zunino, Project Manager with Greystone West Construction Management.
On tee-box eight, Landmark team members Mickella Calvin and Candice Bookhart served hot coffee drinks with Bailey's, Kahlua, cream, caramel or chocolate syrup, whipped cream, sprinkles, or cinnamon.  Those who toughed out the weather were grateful for the hot drinks and the rain shelter to stand under for a break from the weather!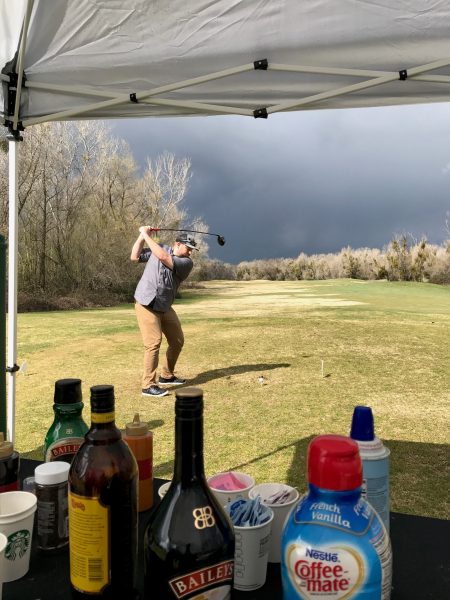 Throughout the morning, rain turned to hail keeping the game interesting for golfers.  In the early afternoon, the sun broke through the clouds allowing players reprieve from the inclement weather.  However, a short while later, the tournament was called due to an approaching lightening storm.  Most players made it through the 18-hole tournament before the lightening call.
There was never a dull moment but it was certainly worth weathering the storm to support the effort to provide resources for school facilities that serve every child in California.